Mission: To meet the changing financial needs of our field of membership by providing quality products and services in an efficient, cost-effective manner by knowledgeable, enthusiastic and caring employees.
Employee Experience Team: Kevin A., Beth B., Leann C., Molly E., Kristi E., Kari F., Susan G., Dana G., Nicole H., Andrea J., Michelle L., Rebecca M., Holly S., Shannan S., Lynsie T.
---
Shining ST★R Recognition Drawings
Every month we gather recognition cards each of your team members received this month to do the drawing for the month's winner. Each you have the opportunity to determine your award- a reserved parking space, first person to pick their lunch time, etc.
Our winners for the month of September are:
Admin- Cindy S.
Boonville- Shelia A.
Bell Oaks- Emilie G.
Deposit Ops- Chelsea J.
First Ave.- First Ave.
Henderson- Terri B.
HQ- Debbie T.
Main-
Mt. Vernon/New Harmony- Sarah D.
Northfield- Julie F.
Vogel- Hayley C.
West-
Keep giving those recognition cards – you could be the winner next month!
---
Service Award Luncheon
On Tuesday, July 16, we were honored to celebrate our dedicated employees at our
Service Award 🏆 Luncheon. The honorees have a combined 95 years of service to HFCU! We want to thank them for the many years they have given to Heritage Federal Credit Union in service of our more than 61,291 members. We recognize the effort and time they put into each day to make sure that our quality of service is of the highest regard in Warrick, Vanderburgh, Henderson, and Posey Counties.
Barbara W. 30 years
LaDonna S. 30 years
Tony F. 20 years
Kari F. 10 years
Chelsea J. 5 years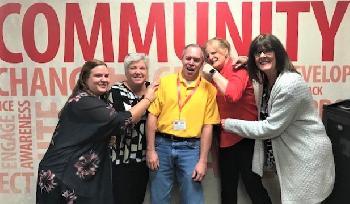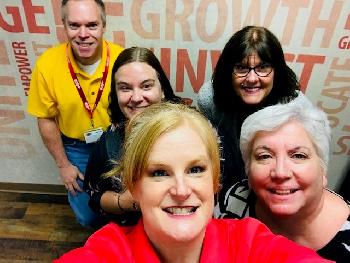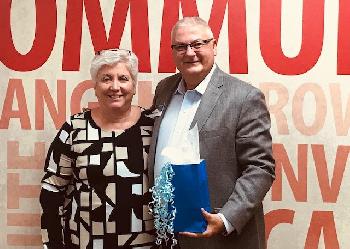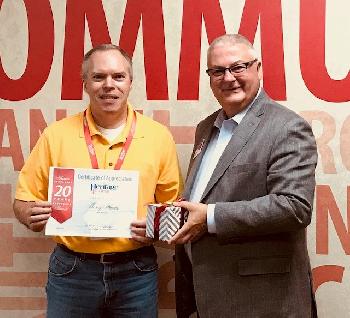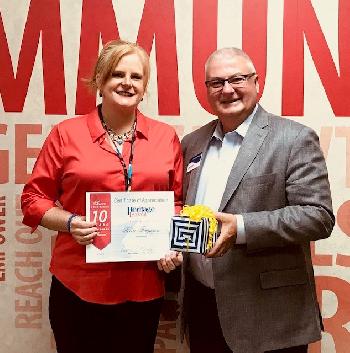 ---
PATRICK Awards
☘️
It's time to spread the PATRICK love around! HFCU employees were nominated by their colleages who impressed them with a PATRICK Core Value. One member facing employee and one support employe were nominated for an award. Here are the winners:
P - PROFESSIONALISM
Displays exemplary behaviors through words, actions, demeanor, and appearance.
Member Facing Winner: Michele K.
Support Winner: Roger F.
A - ACCOUNTABILITY
Takes responsibility of the performance of assigned duties. Maintains focus and a sense of urgency on the path towards specific goals.
Member Facing Winner: Debbie P. & Shelia A.
Support Winner: LaDonna S.
T - TEAMWORK
Is reliable and responsible in the completion of assignments. Is dependable and diligent with assistance to coworkers.
Member Facing Winner: Lynn D.
Support Winner: Rebecca M.
R - RESPECT
Celebrates the advantanges of generational, educational, experiential, and cultural diversity. Is courteous when considering the point of view of others.
Member Facing Winner: Charles S.
Support Winner: Connie L.
I - INTEGRITY
Committed to carrying out the requirements of credit union policies, procedures, and processes. Is honest, reputable, ethical, and professional.
Member Facing Winner: Michelle K.
Support Winner: Ysabel T. & Michael D.
C - COMMUNICATION
Actively engages in the two way exchange of information. Utilizes the appropriate communications channel and maintains an open frame of mind.
Member Facing Winner: Larry B.
Support Winner: Lynsie T.
K - KNOWLEDGE
Takes the initiative for developing skills, continually improves job competencies and service attributes in order to add value to the organizations and its members.
Member Facing Winner: Pam H.
Support Winner: Shannon S.
Congrats to all the winners and thank you everyone for displaying our PATRICK Core Values every day. We appreciate you and everything you do.

Go to main navigation